Come Join the Osceola Velo Club
All road (road, track, cyclo-cross) bicyclists are welcomed -- men, women, juniors (9-18 years old), masters (40+ years old), novice, and experienced racers.
Don't live in the Lawrence, KS area? Not a problem! Join anyway -- much of the coaching can be done via email, come train with us whenever you are able, and we'll meet up at the races!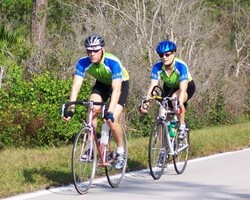 Membership Options

Rider - $50 per calendar year for road bicyclists who are interested in training and racing.
Junior Rider - $25 per calendar year for road bicyclists who are 10-18 years old.
Non-Rider - $15 per calendar year for those interested in bicycle road racing but not in riding a bicycle themselves (spouses, friends, family, soigneurs, photographers, etc.).
To Join

Contact the club's coach, Coach Pat, at phschlager@aol.com.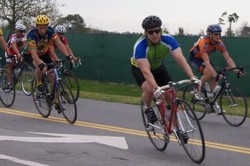 Pat S., 2007 New Year's Day Criterium.